Top 25:
USC Trojans

LSU Tigers

Florida Gators

Oklahoma Sooners

California Golden Bears

West Virginia Mountaineers

Ohio State Buckeyes

Texas Longhorns

Boston College Eagles

Wisconsin Bagers

Rutgers Scarlet Knights

Oregon Ducks

Georgia Bulldogs

Clemson Tigers

Kentucky Wildcats

Virginia Tech Hokies

Hawaii Warriors

Penn State Nittany Lions

South Florida Bulls

Alabama Crimson Tide

South Carolina Gamecocks

Arizona State Sun Devils

Missouri Tigers

Michigan State Spartans

Cincinnati Bearcats
---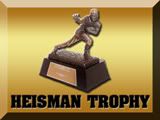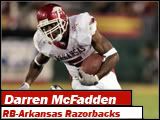 Wow. Arkansas is not looking good what so ever… except for McFadden. He carried the ball 27 times for over 170 yards and a TD. Running like a wild hog, McFadden is determined to alteast be hoisting one trophy at the end of the season.

Tim Tebow-QB-Florida (sorry for no player card, no PS on this computer)
He's only a sophomore, but he's probably one of the best quarterbacks in the nation, if not the best already. Last year he proved he could run, and this year he proved he could be a passer. 68% completion for the year, only 1 interceptions, with 10 touchdowns.

He didn't play this past week, but his numbers are still some of the top in the NCAA. What will make or break his Heisman position will be how he does against Washington and Boise State. As long as he plays, he'll most likely be on the Heisman list, and even if he doesn't, he still might stay on here.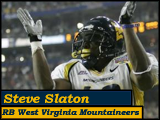 This man doesn't receive much face time with Pat White being right next to him in the backfield but he can fly. He's averaging 6 yard per carry and is already over 100 yards receiving this year for him. He's a versatile running back, and a man to keep a close eye on.

He has had 4 games with over 150 yards. He is the Michigan offense and without him there is nothing. How do you stop him? Well you could stop him straight up but that is not going to happen. The only way a team can really stop Mike Hart is to score first and often. Make Michigan throw the ball, meaning make them keep the ball out of Hart's hands. If Michigan gets the lead, you can almost forget it.
Players that should look at plane tickets to NYC still:

Matt Ryan-Boston College
Andre Woodson-Kentucky
John Booty-USC
---
Week Recap:
Louisville is not a top 25 team. Losing to SYRACUSE!
The Huskers almost lost to Ball State, but pulled out the win 41-40. Thats all that is needed to be said.
Bama lost to Georgia in OT at home. I did not get to watch this game, so no further comment.
Ohio State looks like the leader to win the Big Ten right now as they crushed Northwestern and Penn State fumbled the win against Michigan.
Lets just face it, LSU's defense is fantastic, but how about their special teams? A fake field goal flipped behind their holder's back to the kicker who ran it in for a touchdown.
---
The Milkshake Game of the Week:
#5 California Golden Bears
vs.
#12 Oregon Ducks
Dennis Dixon feels he can move the ball on any defense, and the Oregon defense feels they can stop any offense when they're playing at home in the zoo. It might be a Pac-10 match up, but it is definitely worth watching on the east coast.
Potential Bamma of the Week:
I'll call it now. West Virginia loses to South Florida. The Bulls weren't on many people's radar (they jumped on mine in 2005 when they played Penn State, since then I've followed them) till the Auburn game. The Bulls play defense (unlikely in the Big East, but it happens) and will be looking to beat a #5 West Virginia to be the favorites to win the Big East. The game is in Tampa Bay too.