Top 25:
USC Trojans

LSU Tigers

Florida Gators

Oklahoma Sooners

Texas Longhorns

West Virginia Mountaineers

Ohio State Buckeyes

Wisconsin Bagers

California Golden Bears

Penn State Nittany Lions

Rutgers Scarlet Knights

Boston College Eagles

Nebraska Cornhuskers

Virginia Tech Hokies

Florida State Seminoles

Hawaii Warriors

Clemson Tigers

South Carolina Gamecocks

Arkansas Razorbacks

Georgia Tech Yellow Jackets

Georgia Bulldogs

Texas A&M Aggies

South Florida Bulls

Alabama Crimson Tide

Arizona State Sun Devils
---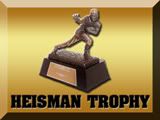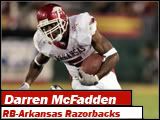 Even in a loss to the Crimson Tide, McFadden was able to gain 195 yards and two touchdowns and put his team in position to potentially win. The Arkansas defense did not though. It's ok Darren, you're still #1 in my heart.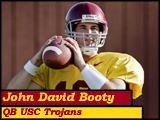 His game in Lincoln was not high flying, but when you're running backs are shredding up a defense like USC's (and when you have that many RBs), then why would one even think about going to the air except to mix it up. He managed the game well and led his team to victory. If we keep having games like this though, Heisman Candidate will be in question.
Colt Brennan didn't throw 60 times against UNLV! Not only that, but he also only had 2 touchdown passes! Why did he move up? Because along with his 300 yards of passing, he had 20 yards of running with 3 touchdowns carried himself. I don't care who you are, this guy is good.

Even in the loss to Kentucky Brohm's stats were solid. He had an interception, but it happens a few times. The main thing is that if he has another game like this, he could be looking at being on my Heisman list. Bottom line is that this Louisville team is not that good, due to their defense. Brohm, along with Hart and Henne, should have gone Pro last year.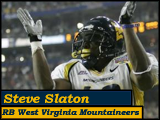 One would have thought that Noel Devine would have taken carries away from Steve Slaton. Think again. Slaton has gone over 100 yards in all his games this year. He has also racked up 3 touchdowns in two of those games (2 in the other one). The Big East doesn't have a Big D, making it likely for Slaton to keep tearing it up. Will anyone stop him?
---
Week Recap:
Louisville's defense shows why they're not in my top 25, after they have given up a combined 82 points in the past two games to KENTUCKY and MIDDLE TENNESSEE STATE!
The Huskers looked pretty good, and Callahan was given his time to build this team. Sadly for Husker fans, USC just is on another level. This makes me wonder whether Ty was given enough time at Notre Dame…
'Bama looked real good at home against the Razorbacks, but the stout SEC defense were not to be seen. Never the less, the Tide won as DJ Hall tore it up going for over 100 yards and 2 TDs.
Wisconsin only beat the Citadel 45-31. The Big Ten is wide open right now to whoever wants it. It was one bad quarter from there being a Michigan repeat and even bigger upset.
Florida rocked Tennessee, 59-20… Tim Tebow is about to go up on my Heisman list, and if their defense steps up at all, they very well could go undefeated (meaning they beat LSU)
UCLA was demolished. It wasn't even like a close upset. Utah came out and just manhandled the Bruins from start to finish. The whole Bruin team should be utterly embarrassed.
The polls have no clue where to rank anyone with all the madness already this season.
---
The Milkshake Game of the Week:
#17 South Carolina Gamecocks
vs.
#2 LSU Tigers
If anyone thinks that a team can walk into Death Valley and move the ball, they're insane. This Tiger defense is as good as any out there, and they will remind Spurrier of why he should have never left Gainesville.
Storyline of the week:

Who's next? Michigan losses to App State, Louisville is stunned at Kentucky, and Utah rocks the Bruins of UCLA. What will next week hold? The season could end already and we would have our fill of shocks.
Potential Bamma of the Week:
Michigan finally remember what it's like to win. The good news is they have a team next week that they don't even know how to lose to, Penn State. The Lions look to be the favorites in Ann Arbor (is a whore) but if Austin Scott keeps fumbling the ball, it won't matter what Tom Bradley's defense does to Chad Henne, or Ryan Mallett… whoever is playing. The weak Michigan secondary is perfect for Penn State to match up to, but the inconsistency and turnovers by Penn State could give Michigan the chance to start to redeem their season.