Top 25:
USC Trojans

Florida Gators

LSU Tigers

Texas Longhorns

West Virginia Mountaineers

Wisconsin Bagers

Oklahoma Sooners

Virginia Tech Hokies

Arkansas Razorbacks

Louisville Cardinals

Ohio State Buckeyes

Nebraska Cornhuskers

California Golden Bears

Penn State Nittany Lions

Georgia Bulldogs

Auburn Tigers

UCLA Bruins

Tennessee Volunteers

Rutgers Scarlet Knights

Florida State Seminoles

Hawaii Warriors

Boston College Eagles

TCU Horned Frogs

Boise State Broncos

Texas A&M Aggies
---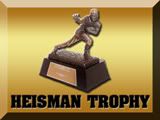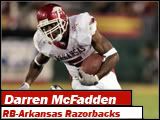 Must I remind you he's only a junior. He is the best running back in a year that is loaded with running backs. To put it short and to the point, until he proves other wise, he's my #1.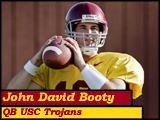 The Heisman is hype, so the starting QB on the best team in the nation has to be near the top. He happens to be a good Quarterback too. This is USC of 2007 remember, not the early 90s. He hasn't had a bad game yet this year (yeah, it's still week 1) to complain about from me. Vidal Hazelton and the other wide receivers will have to step up though, because it's not like he's throwing to Dwayne Jarrett or Steve Smith.
There is a reason he stayed in Louisville. He likes the scheme implemented by the new head coach. With a good day against Murray State and what he has shown in the past, there is no reason for him to not end up in New York City in December.

Shut up about this system guy stuff. Shut up about him playing against weak defenses. He is playing in a system that allows him to get great stats, but he also is playing like a genius in that system. He had over 70% pass completion last year. Sure the defenses he was playing against aren't the best, but (no offense to his offense) he is not playing with Mario Manningham, Lima Sweed, or DeSean Jackson either.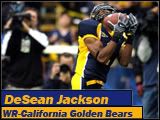 Everyone else on this list is a "till proven other wise" guy. DeSean Jackson is my, "he'll prove me other wise" as in he'll do great. First off he is one of the top WRs, and arguable the best. Second, he is a top kick returner and with the new kick off rule, he'll do even better. Finally, he returned a punt 77 yards for a TD against Tennessee.
---
Week Recap:
If you seriously don't know about the upset with Appalachian State and Michigan, then you have no life
Tim Tebow threw for 300 yards, 3 touchdown and ran a touchdown in. Even if it is Western Kentucky, I feel like the arm won't be a problem for him this year.
West Virginia gave up 245 yards through the air to Western Michigan
Anthony Morelli set a Penn State record by passing for 231 yards in the first half. Mike McQueary (Wide Recievers coach for Penn State now) previously held the record with 219 against Wisconsin in 1997
Colt Brennan is tied for 6th place (with Matt Leinart) for most career passing TDs with 99
Redshirt freshmen for the Sooners DeMarco Murray ran for 5 touchdowns against North Texas
---
The Game of the Week:
#8 Virginia Tech Hokies

vs.
#3 LSU Tigers
Two top 10 ranked teams playing against each other in Week 2. In fact, there is only one other game between two ranked teams (TCU vs. Texas). The loudest stadium in perhaps the nation is ready for a game that could determine who is in the National Championship game, much like Ohio State-Texas did in 2005.
Storyline of the week:

The first one to pop into ones mind is, "how does Michigan do the rest of the season?" To tell you the truth, it's still hard for me to believe Michigan lost. How they will do for the season is big, but also keep in mind that Oregon's offense is much like Appalachian State's. Mobile QB with a spread offense; could cause trouble for Lloyd Carr… again.
Potential Bamma of the Week: (upset watch)The Hurricanes have a winnable game coming up this week against the Oklahoma Sooners. New head coach Shannon will be a major hit if he can pull of an upset. There are 3 things that need to be done to do so, though:
Kirby Freeman must play at least "good"
Either stuff Oklahoma's running game or get a decent size lead early to make the Sooners throw
Have Lee Corso pick the Oklahoma Sooners on College Gameday, and make sure he's even cocky about his pick